The elegance of its gothic lines that lead the gaze ever upwards towards the timber trusses of the roof, along with the imposing single nave, the church of Santa Caterina affords visitors an glimpse of the stately yet understated atmosphere typical of fourteenth-century places of worship.
The signature features of the Gothic style can be seen in the three end chapels and in the tall, slim lancet windows.
This church was built in two stages. The first started in 1346 from the apse. Work stopped abruptly just two years later, due to a major outbreak of the plague, the result being that a façade of wooden planks was erected as a temporary measure. This is evidenced by a fresco inside the church: Saint Catherine holds up a scale model of the city of Treviso.
Work resumed in the early-fifteenth century, when the building took on its present-day size and shape.
">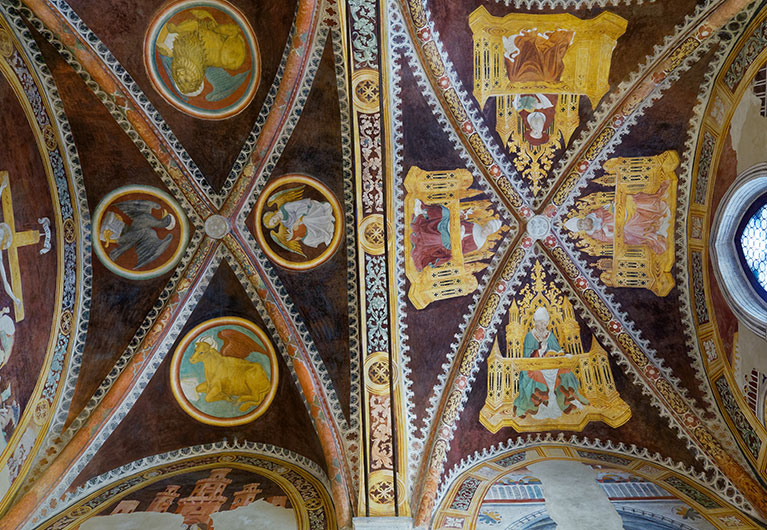 ">
A number of chapels were added to the church interior at various times at the express wish and expense of wealthy patrons. Only one survives and is in the southerly section of the church. Named for the Innocents, it was built at the behest of Alberto della Motta, who was from the nearby town of Conegliano, and who was buried here in 1406.
Initially requisitioned by Napoleon, the church underwent heavy-duty remodelling, especially during the Austrian occupation of the city (from 1797 to 1866), since its new role was to be a military warehouse. Stripped of its furnishings, its apses was demolished, and a new (neo-classical) façade added, opening onto the square at the rear.
Internally, three floors were added, the beams piercing the walls and frescoes, with no regard for aesthetics, these infelicitous conditions pertaining until the whole place was restored starting in the early post-war period, to remedy heavy bomb damage during 1944 and 1945.
Thanks to the insight and skills of the restorer Mario Botter, long-forgotten frescoes were brought to light, prompting the decision to restore the entire monastic complex and, eventually, to convert it to its current role as a museum.
Today's visitors cannot but be wonderstruck by the sight of so much beautiful fresco work on the walls of this church. These include the outstanding "Madonna and child" attributed to Gentile da Fabriano (c. 1370–1427), as well as the adjacent fifteenth-century Cappella "degli Innocenti", its cross vaults featuring the Doctors of the Church and the symbols of the Evangelists.
More, there's Lorenzo Lotto's cycle of frescoes showing the Stories of Mary (Le storie di Maria), which culminate with the dramatic Crucifixion of the Son (Crocifissione del Figlio).

Predating these works by some two hundred years, but a much later arrival, is Tomaso da Modena's incomparable cycle narrating the Stories of Saint Ursula (Storie di Sant'Orsola). Originally painted for the nearby church of Santa Margherita degli Eremitani, the frescoes were moved here in 1979.
The Saint Ursula Fresco cycle